Integrated Pest Management in Denver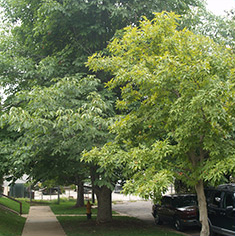 Integrated Pest Management (IPM) is good for your landscape, the environment, and your pocketbook! IPM seeks to suppress pest populations while minimizing costs and environmental disruption. Not a "one size fits all" formula or just blanket spraying, IPM is based on site-specific information. IPM integrates numerous control tactics, and treatments are made only when necessary.
Knowing that all insects are host-specific, Arbor Garden can develop a pest management plan specifically for the plants on your property.
Contact Arbor Garden to arrange a personal consultation at 303-722-8820 or simply Inquire Online Here for more information about Integrated Pest Management in the Denver Metro area.
If you would like to learn more about pests and diseases that afflict Denver, Colorado trees and shrubs, check out these related articles on our resource page.
Related Articles from Colorado State University Cooperative Extension:
Ips Beetle (Engraver Beetles)
Cytospora Canker
Honey Locust Disease
Mountain Pine Beetle
Go to Complete List of Articles