Denver Tree Trimming Services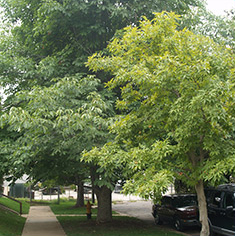 Arbor Garden understands how trees respond to trimming. Even in the best conditions, trees require pruning to help them coexist with their surroundings and to channel energy into attractive foliage and structure.
Each time a tree is cut, you can change its growth or cause damage. Removing foliage from a tree reduces the tree's ability to feed itself through photosynthesis and may decrease its growth. That's why you want to choose Arbor Garden for all your trees trimming needs in Denver.
Turn to Arbor Garden to perform your pruning job safely, to reduce your risk of injury and to prevent damage to your property. Proper pruning of shade trees, evergreens, and shrubs requires special equipment, training, and experience. Arbor Garden will help you determine what type of pruning is necessary to maintain or improve the health, appearance and safety of your trees.
Get acquainted with some of your options for pruning by reviewing Arbor Garden's pruning standards for shade trees, evergreens, and deciduous shrubs.
• Shade Trees
• Evergreens
• Deciduous Shrubs
Most people start with pruning, but then ask Arbor Garden to help them with all their tree care needs including:
• New trees and shrubs
• Pest management
• Stump removal
At Arbor Garden, owners and staff are well-trained and committed to delivering the highest quality tree and landscaping care at a reasonable price. Contact Arbor Garden for a personal consultation at 303-722-8820 or simply Inquire Online Here.